Biscoff Banana Cream Pudding – a delicious and quick 15 minute to make dessert
Jump to Recipe
Biscoff Banana Cream Pudding – a delicious and quick 15 minute to make dessert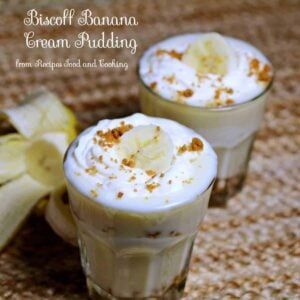 Biscoff Banana Cream Pudding
Hi everyone, Mary Ellen here from Recipes Food and Cooking and That's My Home. Banana pudding is one of my favorite go to comfort food desserts. I made it today in individual servings that uses Biscoff cookies instead of vanilla wafers. I love the spiciness that the cookies add.
You can make homemade vanilla pudding in less than 15 minutes using just milk, sugar, eggs, cornstarch and vanilla. It does need to cool before assembling the banana pudding. Putting them together takes less than 10 minutes if you have everything ready. I loved the crunchiness of the Biscoff Cookies.
Did you know there are 5 kinds of bananas? There are red bananas, baby bananas, fruit bananas (the ones we usually buy), apple and baking bananas. I've seen the red and baby bananas at a store I usually shop in but never tried them. The red bananas have a red green peel and are pink inside. They taste the same as a regular banana but now I need to buy them to see that pink flesh inside. The baby bananas are the sweetest of all of them. The apple banana is smaller usually than regular bananas but taste similar. The baking bananas (plantains) can not be eaten raw and need to be cooked. In some countries they are used as a starch. Bananas are high in Vitamin C and potassium.
If the bananas you bought are not ripe enough you can put them in a paper bag with an apple or a tomato to help speed the process. One thing I do when buying bananas is to buy them from different bunches that are at various stages of ripening. If they ripen too fast on you peel them, cut into pieces and freeze. They are great for smoothies, shakes or banana bread whenever you're ready. You could also cut into pieces, put a stick in them, dip them in chocolate and freeze. They make a perfect summertime treat when done this way. Don't forget to add some sprinkles or nuts!
Biscoff Banana Cream Pudding
Ingredients
Pudding
⅔

cup

sugar

¼

cup

cornstarch

3

cups

milk

½

teaspoon

salt

2

eggs

2

teaspoons

vanilla

1

tablespoon

butter
Toppings
12

Biscoff cookies

1

tablespoon

butter

melted

2 – 3

bananas

1 ½

cups

heavy cream

½

cup

confectioners sugar

1

teaspoon

vanilla
Instructions
Combine the sugar, cornstarch and salt in a small saucepan. Add milk. Stir over medium heat until thickened. Cook one minute and remove from heat.

Beat the eggs in a small bowl. Add about a half cup of the milk mixture to the eggs stirring constantly. Add the egg mixture to the saucepan. Stir constantly until thickened. Cook one more minute. Remove from heat. Add butter and vanilla. Cover with plastic wrap to prevent skin that will form if you don't. Cool.

To assemble banana puddings. Whip the cream until thick and creamy with the confectioners sugar and vanilla. Set aside.

Crush the biscoff cookies. Add the melted butter.

Put a couple of tablespoons in the bottom of the containers you are using. Top with some of the pudding. Add a few sliced bananas. Add a little of the whipped cream. Add another pudding layer, bananas and top with whipped cream. Add a few sprinkles of the Biscoff sprinkles and a sliced banana on top just before serving.
Nutrition Info
Calories:
605
kcal
|
Carbohydrates:
44
g
|
Protein:
6
g
|
Fat:
31
g
|
Saturated Fat:
18
g
|
Cholesterol:
158
mg
|
Sodium:
324
mg
|
Potassium:
225
mg
|
Sugar:
38
g
|
Vitamin A:
1270
IU
|
Vitamin C:
0.3
mg
|
Calcium:
185
mg
|
Iron:
0.3
mg
Maybe you'd like to try our?
Moscato White Chocolate Sabayon
Strawberry Shortcake Ooey Gooey Butter Cake
Pin It!
Mary Ellen loves to cook and bake and learned to cook watching her grandmother, mom and aunts in her grandmother's busy kitchen. It was a magical place where it seemed as if the pot never emptied and there was always room at the table for one more. It seems only natural that she would love to cook and bake so much. She worked in her uncle's restaurant all through school and continued on a culinary path for about 15 years including being a pastry chef. She even owned a bakery for a short time. She is the owner of That's My Home, Recipes Food and Cooking and Razzle Dazzle Recipes.
I'd love it if you followed me!
Facebook//Google+ //Pinterest//Twitter