This post may contain affiliate links. Read my disclosure policy here.
Did you know you can use your slow cooker to make crispy pizza?
My name is Diane Roark. I am a food and travel blogger at Recipes for our Daily Bread. I was excited when given the opportunity to be a guest blogger here at Princess Pinky Girl. In my opinion, Jenn is the Queen of Pinterest with over 3.6 MILLION Pinterest followers. She not only does well on Pinterest, but she has a terrific blog. I am very grateful to be able to share with you today one of my recipes. It is no secret how much I love my slow cooker. So, I just had to try a Slow Cooker BBQ Chicken Pizza and it turned out great.
I use my slow cooker for different reasons during different seasons. During the summer, the slow cooker cooks without heating up the entire house. Since I live in the south, this is a huge benefit. In the winter, I enjoy so many soups like homemade chicken noodle, chicken tortilla, gumbo, chili, beans, and much more that are easy to prepare using a crock-pot. The best advantage of using the slow cooker is when you get home from a long, exhausting day, dinner is ready. It makes me feel like the modern-day June Cleaver when I say "Dinner is Served." I almost want to start singing "Be our guest, Be our guest" from Beauty and the Beast. So, I know I am a little obsessed with my slow cooker, but I cannot help it when I smell all the enticing, alluring smells coming from the kitchen with such little effort.
A couple of months ago, I decided to try to make a pizza in my slow cooker. My family was skeptical, and I too was not sure it would work. I used refrigerated pizza dough and placed it in the bottom of the slow cooker. I then added our favorite toppings. I was so excited it worked! After having success making a slow cooker pizza, I had to try it again using some other of our favorite toppings. My family enjoys Barbecue Chicken Pizza so I could not wait to try making it in my slow cooker. My BBQ Chicken Pizza also turned out great. Pizza really cooks and the edges get crispy in the slow cooker. Who Knew? Now, I know. I will be preparing many more slow cooker pizzas.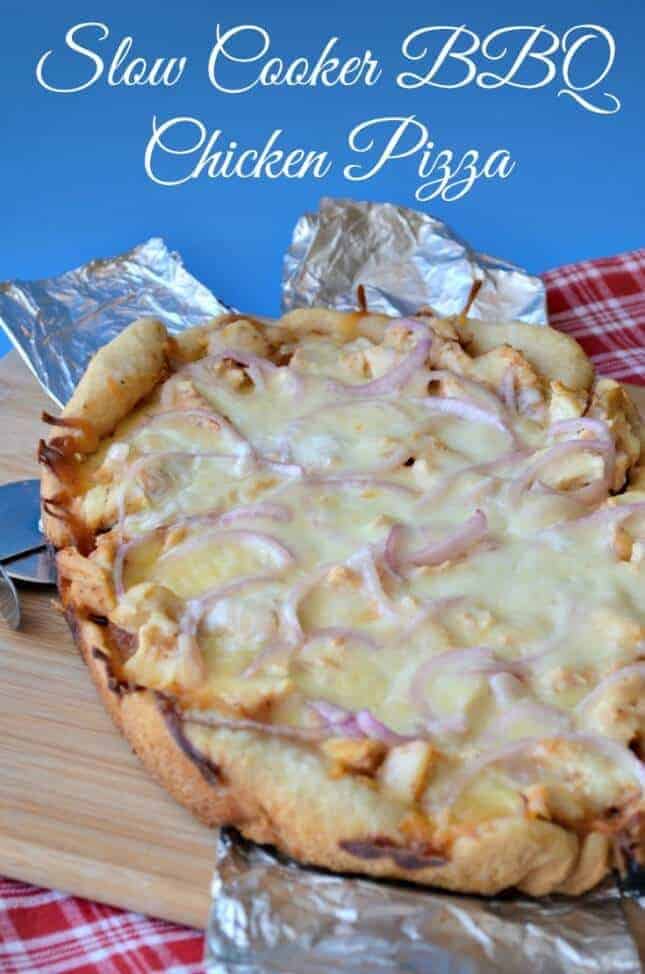 I am sharing a big secret with you today. When using my slow cooker for meatloaf, cornbread, or anything that will be difficult to get out of the slow cooker, I add these foil handles. I make them using two pieces of 18 x 6-inch heavy duty foil. I then fold them in half to make two 18 x 3-inch pieces. I do not measure exactly, just guess. I then spray the slow cooker well and place the foil in an X pattern in the bottom of the slow cooker. Spray the foil after placing them into the slow cooker. When your meat, bread, or in this case your pizza is done, it is super easy to lift food right out of the slow cooker.
Flatten the pizza dough out on the bottom of the slow cooker. Add 1/3 cup of the barbecue sauce, the chopped chicken, thinly sliced purple onions, and then drizzle with another 1/3 cup of barbecue sauce.
Slow Cooker BBQ Chicken Pizza
Here's what you need:
11 ounce can of Pillsbury Pizza Thin Crust Pizza dough (found with the canned biscuits)
2/3 cup barbecue sauce, divided into two 1/3 cups
2 boneless skinless chicken breast
1/2 of small purple onion, sliced thin
2 cups Mozzarella cheese
3/4 teaspoon salt
3/4 teaspoon granulated garlic
3/4 teaspoon black pepper
Here's what you do:
Season both sides of each chicken breast with salt, pepper, and granulated garlic.
Bake 30 minutes for 350 degrees.
Spray a 6 quart slow cooker with a cooking spray.
Use heavy duty foil 18 inches wide by 6 inches and fold the foil in half. (18 x 3)
Place the 18 inches by 3 inch pieces of foil in the slow cooker like a big X.
Spray the foil with a cooking spray.
Unroll the Pizza dough and place it over the foil on the bottom of the slow cooker.
The pizza dough will go up the sides of the slow cooker about an inch.
Add 1/3 cup barbecue sauce on the top of the pizza dough.
Chop the chicken and add it to the top of the pizza dough and the bbq sauce.
Add a layer of very thin slices of purple onion.
Drizzle the remaining 1/3 cup of barbecue sauce on top of the chicken and onions.
Top this with 2 cups of shredded Mozzarella cheese.
Cook on high for 2 – 1/2 hours.
Blessings Always,
Be sure to check out Diane's amazing blog at Recipes for our Daily Bread!! She has tons of incredible recipes!!!
Sign up for the Princess Pinky Girl Newsletter and automatically receive our latest & greatest delivered right to your inbox! Follow Princess Pinky Girl on Facebook, Twitter, Pinterest and Instagram for all of the newest recipes, crafts, travels and updates!
If you make a Princess Pinky Girl creation make sure you take a picture and share it on Instagram with @princesspinkygirl ! I love seeing your masterpieces!