This post may contain affiliate links. Read my disclosure policy here.
These No Bake Monster Cookie Oatmeal Energy Balls will feel like a special treat, but are actually a healthy after school snack!
Our energy balls have all sorts of good stuff in them. The peanut butter not only is delicious but it is packed with protein and helps to keep those afternoon hunger pains away.
Oatmeal Energy Balls
My kids come home from school starving and these No Bake Monster Cookie Energy Balls are just what they need to help curb their hunger until dinner.
Oatmeal Energy Balls are perfect when it is too late for a big snack because dinner is right around the corner. The M&M's add just enough chocolate and color to make them fun and they will think they are getting a special treat!
Looking for something similar? Check out my Peanut Butter Oatmeal Bars here – they are great if you want to leave out the M&M's. One of my kids other favorite after school treats is our Chocolate Chip Banana Bread! This is always a hit and a good way to use up ripe bananas!
Easy No-Bake Oatmeal Balls
They are almost like having a cookie, but the oatmeal and peanut butter offer some healthy options and will help keep those hungry bellies full. It drives me crazy when my kids come home and raid the pantry. They are grabbing one thing after another. Then, when it is time for dinner, no one is hungry.
What's even better about these Monster Cookie Oatmeal Energy Bites is that they are NO BAKE and they are super easy to make! Mixing them together takes virtually minutes and then you just need to wait for them to harden in the refrigerator, which takes about an hour.
Love the idea of these balls, but looking for something chocolate free? Take a look at the Protein Balls, from my friend over at Texan Erin.
Ingredients
Quick Oats
Peanut Butter
Honey
Mini M&M's
Side note – a useful kitchen tool that I love is my silicone baking mat! Place the balls on a baking sheet with a silicone baking mat to keep the balls from sticking when refrigerating them.
How to make No-Bake Oatmeal Energy Balls – 3 easy steps!
Combine all ingredients and mix well.
Roll into balls and set on a baking sheet
Refrigerate for about an hour.
TIPS
If the dough is super sticky, place the mixed dough into the refrigerator for about 30 minutes before rolling them into balls. They will go together much easier and not be as sticky on the hands!
You can use a cookie scoop if you want uniform sizes, I made mine about the size of a golf ball.
Energy Ball Add-In's
The best thing about these Oatmeal Energy Balls is that there really are no rules! You can pretty much add in anything to make them exactly what you like! Try adding some "superfoods" to make them even more nutritious, like flaxseeds or chia seeds. Or instead of M&M's, try some chocolate or cinnamon chips!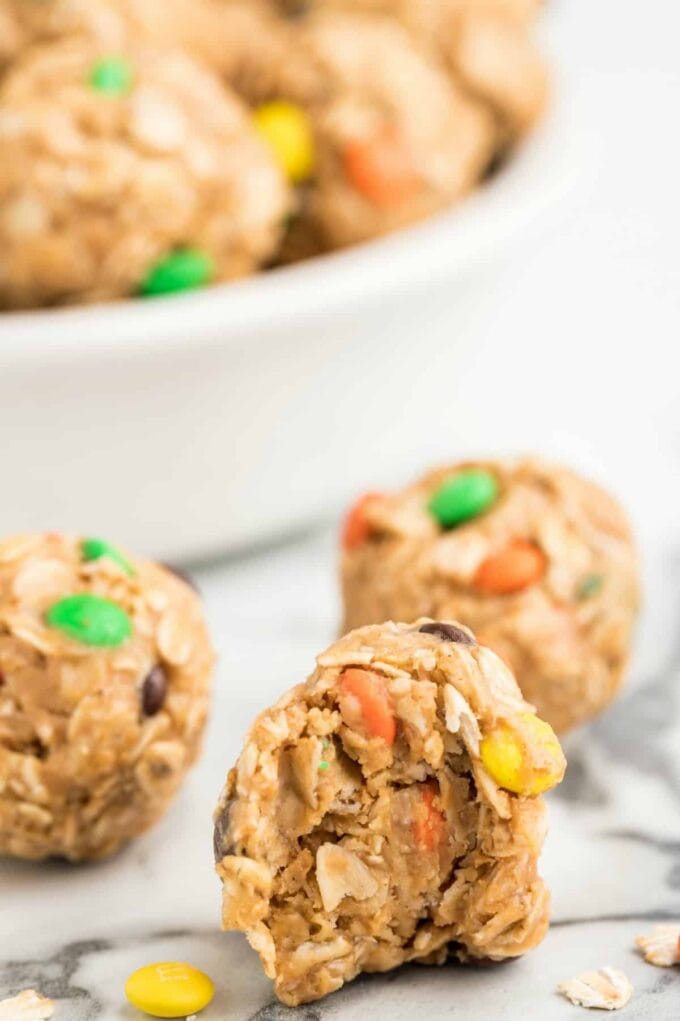 Otmeal Energy Balls FOUR WAYS!
Check out our how to make energy balls video below and you will see how we take the same base recipe, but make them four different ways!
Want to cut down on the sugar or just looking for a variation? Try one of our other mix-in ideas. We love, coconut, dried cranberries or almonds. Just substitute these instead of the M&M's!
You can even divide the recipe in quarters and make all four varieties at once!
Can you make Energy Balls peanut free?
If your school is peanut free or you have a peanut allergy, try substituting the peanut butter for sun butter, pecan butter, almond butter, cashew butter, etc.
It will change the consistency and taste a bit, but try testing it out until you find one you like.
How long do Energy Bites last in the fridge?
If you place your energy bites in a container in the fridge, you can keep them for about a week. If you freeze them, you can keep them for up to three months!
How do you freeze no-bake energy balls?
Once you roll the balls, place them on a cookie sheet and place them in the freezer for about 1-2 hours. After they are frozen, place them in either an airtight container or a zip lock bag and keep them in the freezer until you are ready to eat them.
Personally, I love to keep them in the freezer (they are cold and take longer to eat). Tip: keep them in the freezer and then pop them in your kids lunches – they will be perfect come lunchtime!
If your school isn't peanut free, these are also great to pack in a lunch or as an after-school snack.
Other Easy No-Bake Desserts
No Bake Monster Cookie Oatmeal Energy Balls
These No Bake Monster Cookie Oatmeal Energy Balls will feel like a special treat, but are actually a healthy after school snack!
Prep Time: 5 minutes
Refrigerate: 1 hr
Total Time: 5 minutes
Course: Snack
Cuisine: American
Servings: 24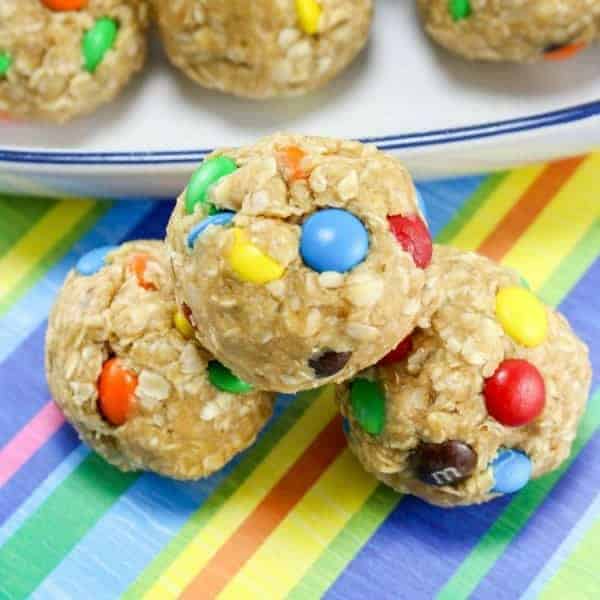 Ingredients
3 Cups Quick Oats
1 Cup Peanut Butter (smooth)
1/2 Cup Honey
1/3 – 1/2 Cup Mini M&M's Candy
Instructions
In a small mixing bowl, combine all ingredients and mix well.

Roll into balls and set on a baking sheet (use a silicone baking mat or wax paper to keep them from sticking.)

Refrigerate for about an hour.

Store in airtight container.

Great after school snack for the kids!
Recipe Video
Nutrition per serving
Calories: 121kcal | Fat: 6g | Saturated fat: 1g | Sodium: 49mg | Potassium: 109mg | Carbohydrates: 14g | Fiber: 1g | Sugar: 6g | Protein: 4g | Calcium: 10% | Iron: 0.7% |
Keyword: After School Snack, No Bake
Originally Published August 15, 2017
Sign up for the Princess Pinky Girl Newsletter and automatically receive our latest & greatest delivered right to your inbox! Follow Princess Pinky Girl on Facebook, Twitter, Pinterest and Instagram for all of the newest recipes, crafts, travels and updates!
If you make a Princess Pinky Girl creation make sure you take a picture and share it on Instagram with @princesspinkygirl ! I love seeing your masterpieces!