I love Hanukkah! The latkes, lighting the candles, celebrating with family, I just love everything about it! I also love holiday decorating and . Let's be honest, when it comes to Hanukkah, the festival of lights, there isn't much out there! Have you ever gone to Target and seen the aisles and aisles of Christmas decorations and then you get to the Hanukkah end cap!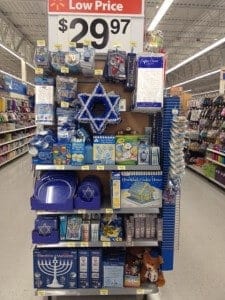 Just sayin' ….. not really fair! So, what can we do about this – we will just need to get a little bit creative! Hanukkah decorations can be fun projects to make with the kids! Who needs store bought decorations, when we all know that homemade decorations are SO much better! So, I scoured the internet looking for EASY (of course) and fun Hanukkah decorations.
Menorah Banner
This is one the whole family can do together!
source: crayola.com

Homemade Hanukkah Gelt
Make them your own – dark chocolate, white chocolate, milk chocolate – whatever you choose – super easy and super cute!
source: ohnuts.com

Dreidel Garland
source: hgtv.com

Some store bought options!
I want this on my table right now! Beautiful!
$99 – click here to purchase
Menorah Tree
Perfect for Christmukkah!
$295 – click here to purchase