Super Easy Ice Cream Sandwich Cake
A couple of weeks ago I posted a recipe for my No Bake Ice Cream Sandwich Cake.  Not only was this a HUGE hit with my family and friends, it went crazy on my website.  So, I thought let's try a variation on it!!  The last one was with Oreo Cookies, which was AH-MAZING, but this time I thought I would try my most favorite candy – M & M's!
This is an honest to goodness show-stopping dessert that you don't even have to "cook"!  It is more about the "assembly"  – which I wrote the book on!   My cooking is more of an assembly process – or we could even call it a Food Hack!!  The part that resembles cooking the most is the fact that you have to mix together Cool Whip and chocolate pudding mix!  I kid you not!!  If I can make this – ANYONE CAN!!!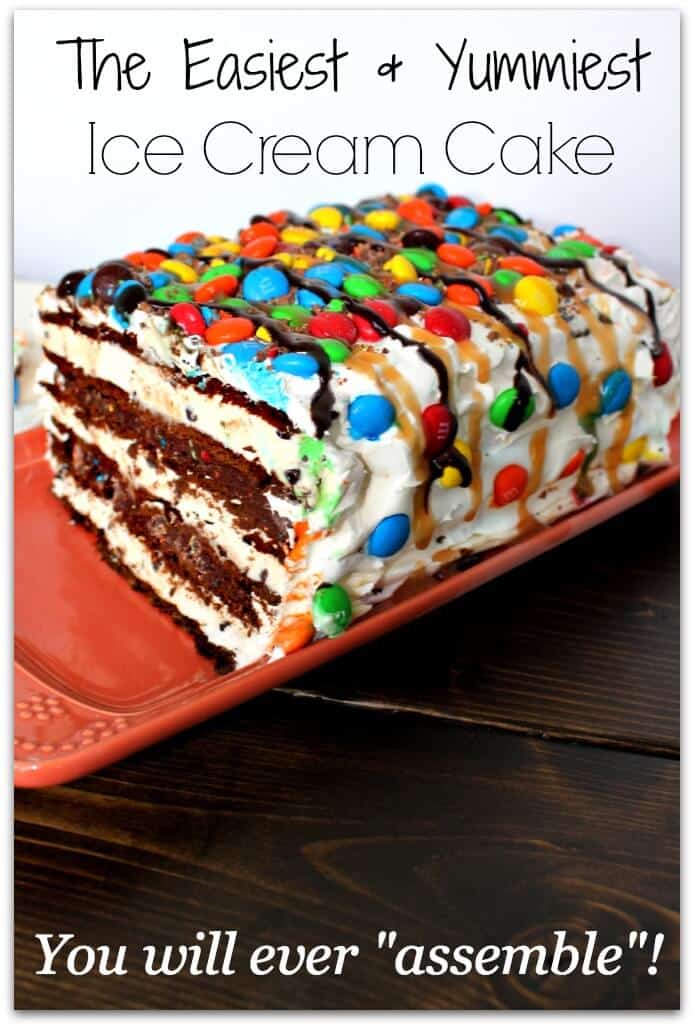 See below for How-To video and Full Recipe!

Here is what you need:
12 ice cream sandwich cakes
1 bag of M & M's  (take 3/4 of the bag and crush – leave the other 1/4 bag to decorate)
1/2 cup hot fudge (I think Sanders Hot Fudge is by far THE BEST IN THE WORLD!!)
1 tub (8 oz.) Cool Whip (thawed and divided)
1 package Jell-O instant chocolate pudding
Here is what you do:
WHISK fudge topping and 1 cup Cool Whip in medium bowl until blended. Add dry pudding mix; stir 2 min. Stir in M&M's (I like to leave a little bit of the crushed M&Ms out to sprinkle over the top of the cake).
ARRANGE 4 ice cream sandwiches, side-by-side, on 24-inch-long piece of foil; cover with half the Cool Whip mixture. Repeat 2 more layers. Top with remaining sandwiches. Frost with remaining Cool Whip; sprinkle a little of the crushed M&M's over the top and press remaining M&Ms into top and sides of dessert. Wrap loosely with foil.
FREEZE 4 hours.
Drizzle with chocolate sauce & sprinkles (cause sprinkles make everything pretty!)
Check out the Oreo Cookie version!!:
Looking for some other delicious and easy desserts?:
Sign up for the Princess Pinky Girl Newsletter and automatically receive our latest & greatest delivered right to your inbox! Follow Princess Pinky Girl on Facebook, Twitter, Pinterest and Instagram for all of the newest recipes, crafts, travels and updates!
If you make a Princess Pinky Girl creation make sure you take a picture and share it on Instagram with @princesspinkygirl ! I love seeing your masterpieces!