Make swapping out seasonal décor a breeze with this simple DIY Chalkboard Frame made from wood shims. How to make a simple, rustic wooden frame.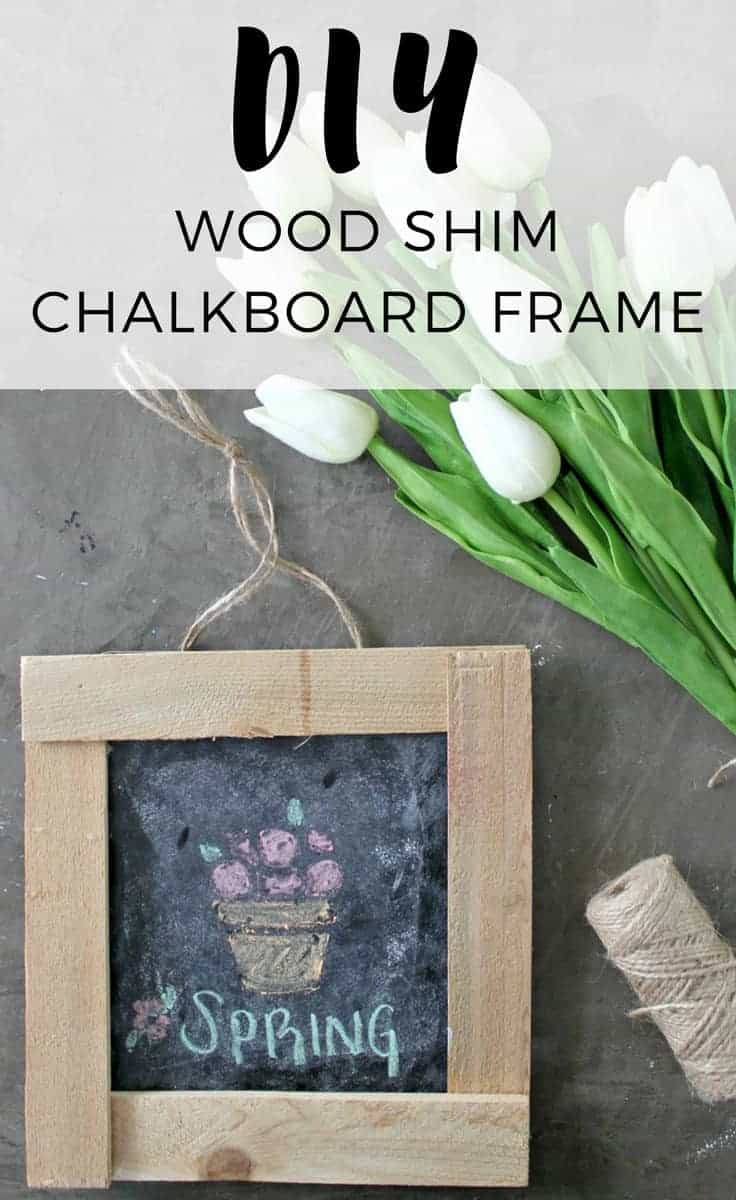 We love all things rustic around here and anything DIY! So this Rustic DIY Chalkboard is the perfect spring project!
Hey there! I'm Aimee, and I blog over at The Crazy Craft Lady where I strive to make everyday creative with simple crafts, easy family-friendly recipes, organizing solutions, and DIY decor projects.
Thanks so much to Jenn for letting me stop in today and share this guest post – a rustic DIY chalkboard frame that you can make to change out your seasonal décor. I decorated this one for spring, but I love using chalkboards because they're so easy to change up for different holidays or events.
I love working with chalkboards – you must see this Wood Sliced Painted Wreath that I made for Jenn for the holidays!! It was a great Christmas craft!
One of my other favorite how-to's is how to transfer images on to glass – if you have some time, check it out. It is really great for the summer!
Crafting with wood shims: Have you ever crafted with wood shims before? They are one of my absolute favorite versatile and inexpensive craft supplies. The wood is thin enough to be cut with an x-acto knife, making it super easy to add wood to your craft projects without the use of power tools.
Related: If you're ready to get started crafting with wood shims, I've got two projects for you. With this simple supply, you can make a wood crate for your kitchen counter or even a fun sunburst style wreath.
For this craft, I grabbed a little dollar store chalkboard and decided to add a simple, rustic wood shim frame. You could also use a photo on cardboard or a small canvas. Wood shims are so inexpensive, you could create a whole little gallery wall for under $10. Let's get crafting!
Supplies Needed
Wood shims – find them at your local home improvement store
Small chalk board – this one came from the dollar store
x-acto knife – I love using these craft knives, they're ah-mah-zing!
E6ooo glue
Twine
Cutting surface for the x-acto knife
Scissors
Tutorial: How to Make a DIY Chalkboard Frame
Start by measuring your small chalkboard. Then cut the wood shims down to size to match the dimensions of the frame. Two sides will need to measure about 2 inches longer than the chalkboard, to allow for overlap of the wood shim pieces.
How to cut the wood shims: Use your x-acto knife to score each side of the wood shim 5-6 times. Then the wood shim will easily snap in half. If the wood shim doesn't snap in half easily, score each side a few more times.
Lay out the wood shim pieces. Then secure the four corners and the chalkboard with E6000 glue. Let the glue dry for 24 hours.
Flip the chalkboard over. Double-layer the twine, and secure each end with a knot. Glue each knotted end to the back of the chalkboard. Let the glue completely dry.
Decorate your new framed chalkboard with a seasonal picture or phrase. Hang, and enjoy!
I really love the look of the unfinished wood shims. If you want a different look, feel free to stain or paint the wood. The color and style possibilities are pretty much endless with this frame.
If you're ready to take things to the next level with wood shims, then give this wood shim planter box a try. It's perfect for spring herbs and plants.