Table of Contents
I am always amazed by some of the videos I see on Facebook where people are decorating cakes and cookies. They make it look so easy, but when I try to do it on my own, I think my 8-year-old niece could do it better! Mine seriously looks like something out of my nightmare decorated a cookie!
I'm excited to share this awesome product with you in partnership with Wilton. I received compensation, but all ideas are my own.
I have always been the girl who colors out of the lines. Mixed all of the paint colors and made a beautiful shade of black. Spilled glitter all over the carpet! Well, Wilton is now my crafting savior! They created the ultimate cookie decorating hack for people just like me!
Wilton Cookie Creations Activity Kits make it simple to decorate like a pro. Their step-by-step instructions make it so easy to create these delicious treats.
What's better than food art? You get to be creative, make a super cute craft and you get something delicious to eat when you are done!
What I really love about these kits is that they literally have everything you need in there! I don't have to buy a bunch of icing tips, sprinkles and other decorations for the cookies. It is all in the box!
This is a really fun activity to do with your little one. The outlines on the cookies make it easy for them to decorate and they are really easy to put together.
They will love all of the different choices of what they can make. Wilton created four different themes so there is something for everyone!
Here are the different options:
Space Exploration Cookie Kit – This one comes with space-themed cookies to decorate including an astronaut and spaceship!
Circus Adventure Cookie Kit – This kit has a cookie circus tent (how fun is that?) and circus animals!
Fantasy Castle Cookie Kit – You can create your own fairy tale with this pre-baked 3D castle cookie! That's right 3D!! It also comes with an icing dragon and princess to complete the scene!
Jungle Animal Cookie Kit – Staying with the 3D theme, this kit comes with pre-baked cookies that are 3D animals! They actually will stand up on their own!
Each cookie kit comes with cookies, icing and everything else you need to make these Instagram worthy treats.
Helpful Tips!
Warm the icing up with your hands. This will make it really easy to squeeze out.

Start by outlining with the cookies with the icing, then fill the bigger spaces in so you have a boundary.

Get creative! Don't feel like you have to follow the photos to the letter. Have fun with them and don't be afraid to color outside of the lines!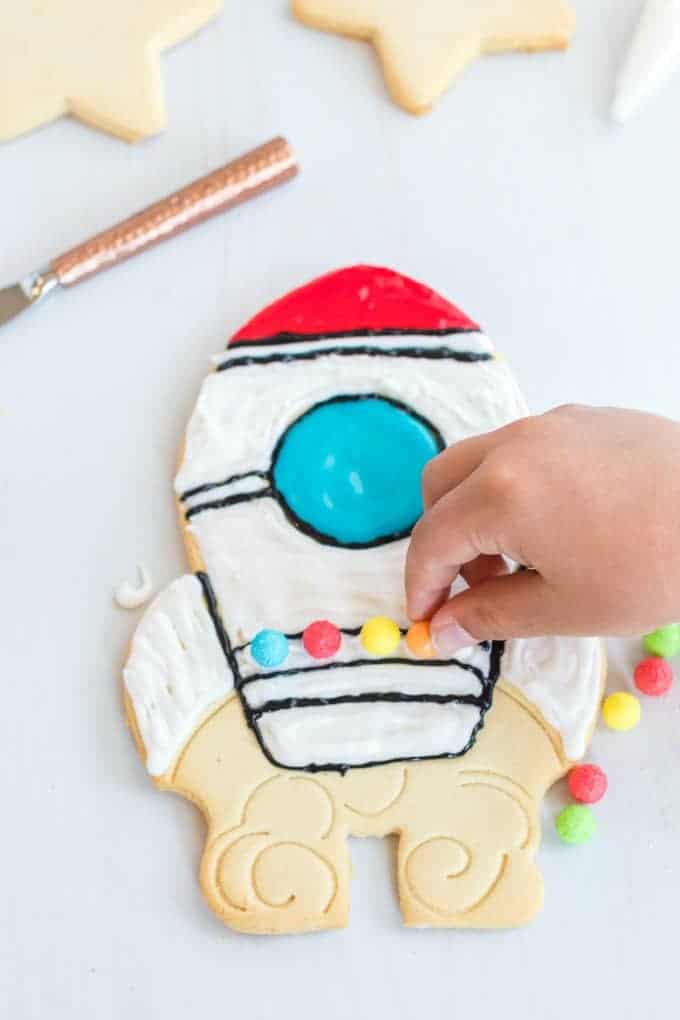 So next time your little one is looking for a fun project that you can do together, grab a few of these Cookie Creations Activity Kits! They are perfect for a rainy day or when you need something to get your kids off their video devices!
Best of all, they get to let their creativity shine! Not only do they make the perfect DIY project but the icing on the cake is they get to a tasty treat, too!