I am always looking for new (and easy) desserts to make!  I am happy to report that I found a doozy!!  This one is crazy good… and I mean CRAZY good!  My son had a group of friends over and I decided to try this for the first time for dessert.  I swear when I brought it out, it was a mob scene!  The tray didn't last 30 seconds (some even went forkless!)  Needless to say, it was a HUGE hit and will be on my staple dessert list!
My Chocolate Lasagna recipe was inspired by an incredible recipe that one of my friends made from Center Cut Cook.  I am sure my interpretation won't do the original justice, so be sure to go check out Ashley's version!
Here's what you need:
1 package of Oreo Cookies
1 cup M&M's (finely crushed)
6 tablespoons melted butter
1 8-ounce package cream cheese
1/4 cup sugar
2 tablespoons milk
3 1/4 cup milk
1 tub Cool Whip (12 ounce tub)
2 packages of instant chocolate pudding
Hot Fudge or Caramel
Here's what you do:
 Crush all of the Oreos – I put them all in a large ziplock bag and used a rolling pin to finely crush them. I used a meat tenderizer to crush some of the larger pieces.
Place the Oreos in a medium size bowl and stir in the melted butter – do your best to evenly distribute the butter throughout the Oreos (this will help it stick together better)
Spread the Oreo mixture in a 9 x 13 baking dish – use your fingers to press and mold the mixture throughout the entire bottom of the dish.
Beat the cream cheese in a mixing bowl until it is light and fluffy.
Add in 2 tablespoons of milk, sugar and 1-1/4 cup of the Cool Whip.
Using a spatula, evenly distribute the mixture over the Oreo crust.
Heat up the hot fudge (or caramel) and pour and spread a light layer over the Cool Whip layer.
Sprinkle the crushed M&M's over the hot fudge layer. (leave some for the top layer)
In a mixing bowl, whisk together both packages of pudding and 3-1/4 cups of milk until the mixture thickens.
Spread the mixture over the last layer and let sit for a few minutes and firm up.
Spread the rest of the Cool Whip over the last layer, drizzle some hot fudge over the top and sprinkle the remaining M&M's.
Put in freezer for 1 -2 hours (or longer!)
Enjoy!
Looking for other super easy desserts – WELL, I have a TON for you to try!!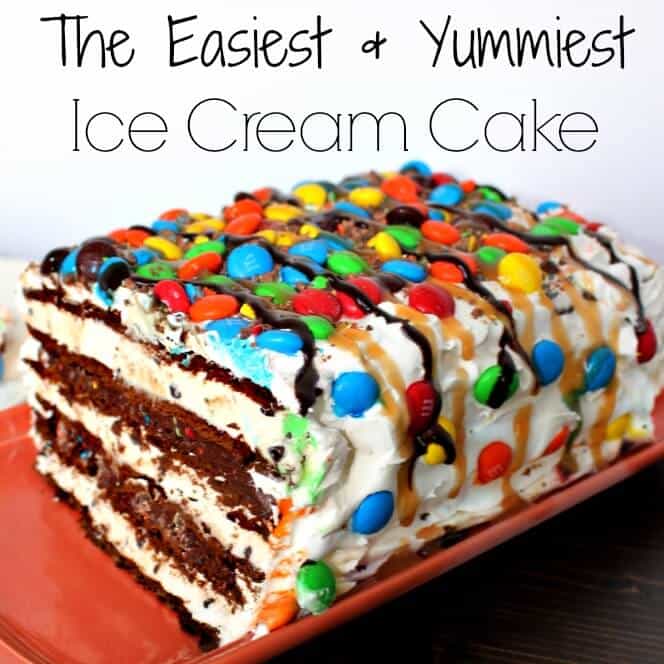 Sign up for the Princess Pinky Girl Newsletter and automatically receive our latest & greatest delivered right to your inbox! Follow Princess Pinky Girl on Facebook, Twitter, Pinterest and Instagram for all of the newest recipes, crafts, travels and updates!
If you make a Princess Pinky Girl creation make sure you take a picture and share it on Instagram with @princesspinkygirl ! I love seeing your masterpieces!