Table of Contents
With the winter being so long and cold this year, I find myself making a lot of soup like these 8 delicious Soup Comfort Food Recipes. Warm up your family with one of these amazing looking meals!
These recipes are from amazing bloggers across the web, be sure to stop by their sites for the recipes and to see all the other fabulous meal ideas they have to offer!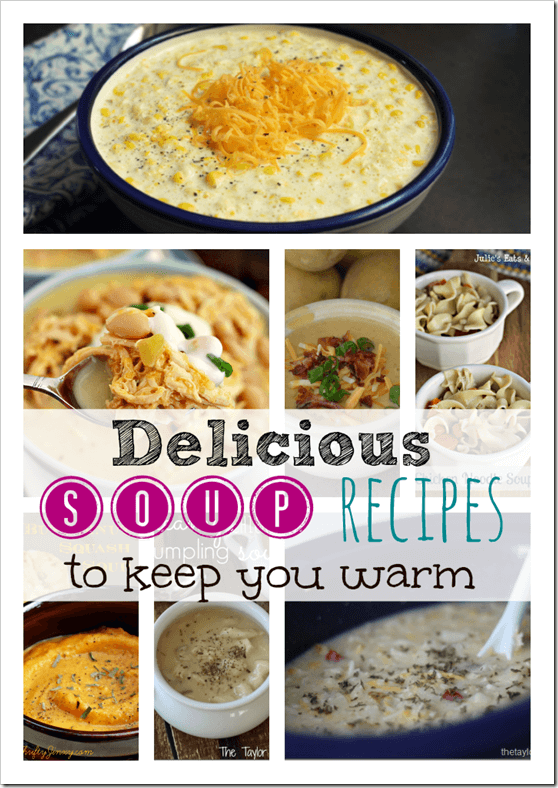 8 Delicious Soup Comfort Food Recipes
The definition of perfect soup is this Creamy Bacon Cheddar Potato Chowder ! How can you go wrong with those ingredients?
We use our slow cooker to make dinner several times a week, for recipes like this simple Creamy Chicken and Dumpling soup. Plus, the dumplings are a short cut and take minutes to make!
Do you love cheeseburgers? Why not make a Cheeseburger Soup that's one of your favorite meals as a soup instead!
Crock Pot White Chicken Chili sounds like a delicious alternative to regular chili and it's another meal you can let cook all day in the slow cooker!
What about trying a delicious and creamy Butternut Squash Soup Recipe? This is an especially got recipe in the fall but tasty any time of the year!
Everyone loves Chicken Noodle Soup, it's a comfort food that people love. This recipe is no acceptation and it's great when you're not feeling the best!
This Cheddar Corn soup will warm your heart and your tummy and it's an easy recipe that takes only a handful of ingredients.
It doesn't get much better or easier than Slow Cooker Cheesy Hashbrown Soup, it's a potato soup short cut recipe!
I am always looking for some other soup recipes – what's your favorite?
Looking for some other easy meal solutions? Check out some of my other articles on Quick & Easy Family Friendly & Quick & Easy Crockpot Recipes